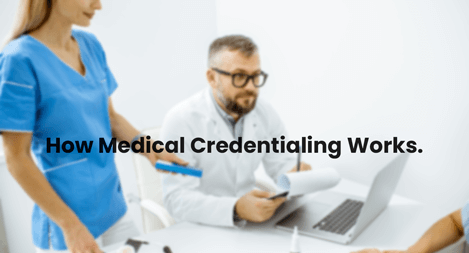 Medical Credentialing: How It Works?
Medical credentialing makes sure that nurses and doctors have the right training, certification, and professional experience to help people with their services. It's a very important part of keeping high safety standards in the medical field.
How Medical Credentialing Works
Without medical credentialing, it can be very hard to use any kind of healthcare software. No medical practice or healthcare provider that wants to get ahead in this industry can ignore medical credentialing.
Step 1:
During this step, the resources contact the healthcare professional and check their credentials . A Credentials Verification Organization will ask the school where the provider got their medical degree, training, and residency to verify their credentials.
Step 2:
Licenses and specialized certificates can also be checked by contacting certification boards and licensing organizations. Employers, like hospitals, may be able to show proof of previous work.
Recruits should have their credentials checked regularly to ensure that they meet the requirements of regulatory and accrediting agencies.
The Medical Credentialing Advantages
In the medical business, quality assurance is provided via credentialing, which is beneficial to all parties involved.
It's safe to say that hospitals and clinics can rely on their employees to provide the high levels of care they expect. There is an intense desire on the part of insurance firms to keep their expenses low. Therefore they prefer to insure only those medical professionals who have shown their ability.
Medical credentialing helps doctors because it lets them take patients who have insurance from a registered service. This means they can treat more people.
Finally, patients get what may be the most important benefit of all. They know that the medical industry has strict rules to make sure they get the best care possible.
Ensuring the quality of medical professionals reduces medical mistakes and lowers the expenses via insurance.
Is Medical Credentialing Necessary For Medical Billing Services
Credentialing is the process all health care providers go through to get on the insurance companies' lists. Only trusted, vetted, and verified insurance companies work with healthcare providers to help their customers.
To acquire medical billing services, you must have credentials, and insurers need health practitioners. It is so that health care providers can serve the customers of insurance companies after they have been checked out.
When a healthcare provider passes the medical billing credentialing process, they become part of an insurer's network of hospitals, care providers, health centers, clinics, or medical centers.
A healthcare operator can get reimbursement after applying and getting the credential. The reimbursements come from the insurance company.
The insurance company provides medical billing services and pays the healthcare operator for the services they provide to their customers. A contracting or credentialing agreement is the terms of the deal between the insurance company and the healthcare service provider.
May A Physician Work During The Credentialing Process?
No, a health care worker can't start work until their credentialing process is complete and they also get the approval.
All patients require doctors and nurses who have the right education, training, and experience to correctly diagnose and treat their health problems. It is risky for a place to hire people who don't have credentials, even if they later get them.
Medical students, residents, and fellows don't need credentials as long as their work doesn't take them too far from their training program. But they are under supervision of the trained professionals.
They haven't finished their training yet, so they don't have the right to certification and privileges. Instead, they have an exemption to get the experience they need to get their diploma and licenses in the future.
How To Get Medical Credential?
When applying for a job in a medical facility, the details of the medical enrollment procedure might differ significantly. However, the fundamentals of the method are universally applicable.
Credentialing services is a necessary requirement for the place where you want to work. You may request an application for medical enrollment by contacting a provider representative in the relevant department.
The CVO sends the application and supporting documentation via mail, fax, or email, depending on . Upon completing your application, review the application checklist before submitting and then completing the application.
To verify credentials directly from the source, CVO employees will begin the procedure. For your medical enrollment for credentialing, they will review and prepare a file. They'll hand the file over to the facility's credentialing committee when the process completes. The approval or denial depends on the credentialing committee. In most cases, the applicant will get a letter informing them of the outcome.
Conclusion:
A flexible credentialing system in the medical billing service can finish the application process, cut down on mistakes, suggest improvements, and speed up the process. This will make it possible for the healthcare service provider to become an independent contractor as soon as possible. They can start getting insurance money or benefits for the work they did for the insurance company's clients.