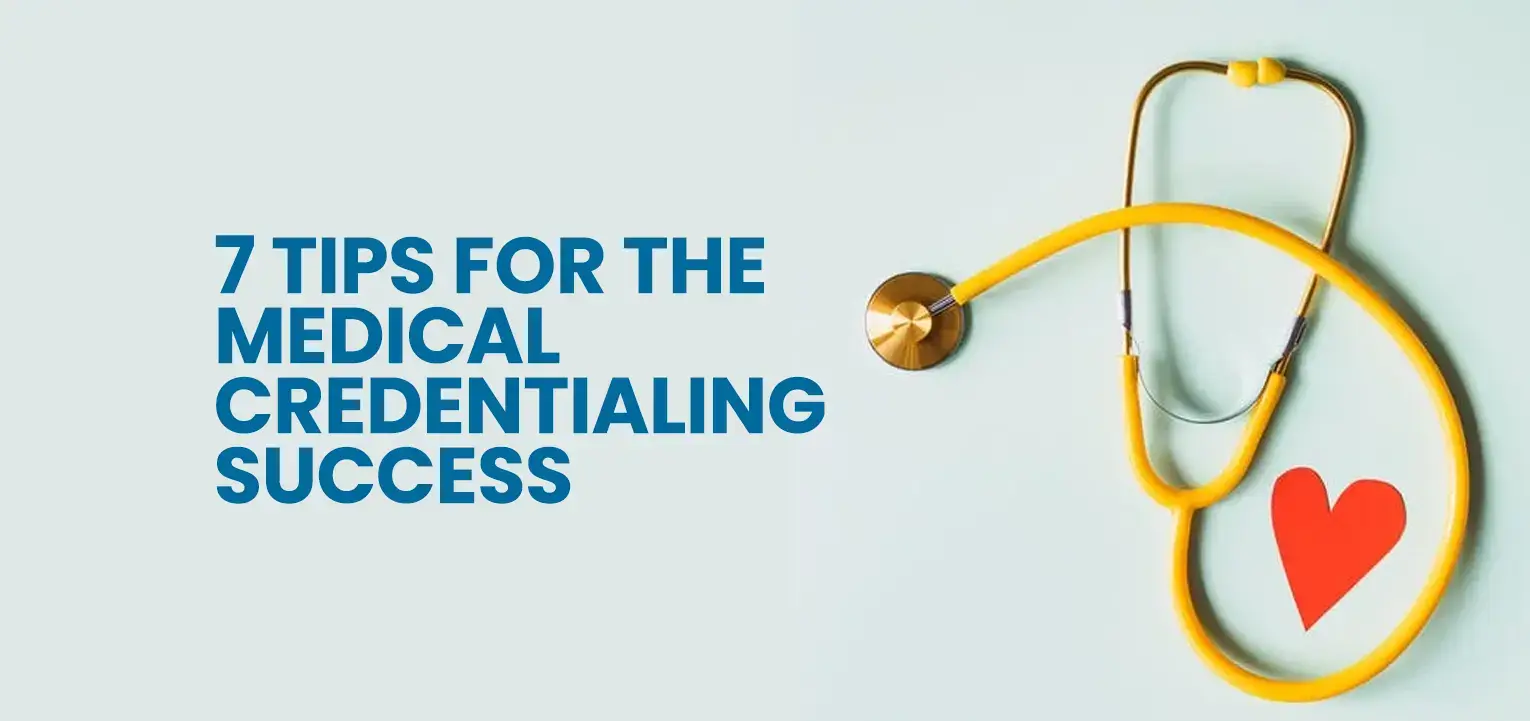 7 Tips for Medical Credentialing Success
In the medical field, there are many processes like medical billing  Credentialing is one of them; it is a formal procedure that makes use of a set of rules to guarantee that patients get the best treatment possible from medical experts. Medical Credentialing services are essential for those who have been through the most thorough examination of their eligibility to practice.
Credentialing also gives patients the peace of mind that their medical needs are being met by professionals who meet recognized standards for education, training, license, and medical practice. All healthcare personnel is subject to the same standards according to credentialing.
How to Make the Most of Credentialing Services For Providers
Modern healthcare procedures work to ensure that best practices are established to provide a prompt, successful outcome. Here are 7 recommendations for effective medical credentialing:
Start Obtaining Credentials Earlier
Without further delay, begin the credentialing procedure. Begin the process by gathering reference materials, resumes, current contact information, and any other necessary documents. Prolonged medical credentialing procedures may have a substantial impact on your cash flow and reimbursement.
While the majority of businesses would claim that 90 days is certainly more than enough time to begin and complete the procedure, in order to allow yourself enough time to complete the procedure, we advise that you begin it 150 days in advance.
1. Always Keep Your Doctor's Contact Information Current
Medical credentialing often entails a variety of submissions; thus, effective communication is crucial at every stage of the procedure. Dealing with credentialing or re-credentialing difficulties may go on without direct communication. Therefore, ensure that your office manager or credentialing companies have comprehensive, current contact details for every doctor.
When it comes to fixing false or out-of-date information, it's just as important that your employees quickly update all of the relevant platforms and channels involved.
2. Credentialing Companies Will Ensure An Efficient Process
Some people may want to outsource their medical credentialing services, while others might handle them inside. Whichever you choose, appointing a credentialing coordinator will enable you to finish the procedure before deadlines and expirations. To prevent credential expiration, he or she may send out timely notifications.
3. Recognize Local Laws And Regulations
Understanding the process of credentialing may significantly improve the efficiency of practice and the rate of cash flow. There may be reciprocal agreements depending on the payer and other state credentialing bodies, as well as rules specific to your state regarding physician credentialing. It implies that if you have an account with a payer in one state, the payer may speed up the credentialing process in a different state.
Credentialing issues may be costly and reduce productivity; therefore, it's crucial to have a procedure in place, and a strategy for guaranteeing credentials are constantly up to date. You might consider using expert medical credentialing services to handle the procedure on your behalf.
4. Employ Cutting-Edge Software For Monitoring
There's no need to rely on the administrative personnel to manually monitor your compliance. You may effortlessly monitor your credentialing status from any location at all times using a cloud-based charging solution. These platforms allow you the opportunity to set up alerts that notify you when a task in your RCM cycle is about to expire or is due.
5. Contract Out Services For Medical Credentialing
The medical credentialing procedure might be challenging to set up and keep up with, but you must do it correctly. This will ensure a successful RCM that optimizes the income for your clinic.
6. Credentialing & Re-Credentialing Services in the USA for Providers will let you:
Keep your payer data up to date.
Process insurance payments more quickly and get more patient referrals.
Controlling revenue leakage
Avoid stacks of completing application papers and documentation.
Reduce rejections and spot patterns in the providers
Develop connections with various payers.
Get the status of credentialing and enrolling transactions in real-time.
7. A New Provider's Start Date Should Be Linked To The Submission Of Credentialing Forms
As soon as a job offer is made, many clinics ask for credentialing documentation. Others connect the filing of papers to the beginning date of a new physician. For instance, you may set a new doctor's start date to be no less than 120 days after you get their credentialing information.
Conclusion:
The most prosperous practices are aware of how crucial medical credentialing is to sound revenue cycle management. You must start the credentialing procedure sooner, whether you are launching your business or hiring another healthcare professional.
When it comes to patient safety, the healthcare industry is always seeking ways to save costs while yet maintaining high standards of patient care. This may save healthcare companies money and time in the long run by verifying that healthcare practitioners are qualified and experienced.